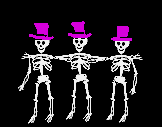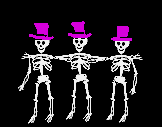 hello my name is SPRECT!!! (or toni if youre feeling sexy)
im a chiptune musician, an artist, and generally a Worled Famous Inter Net FunnyMan.

im 22. im a nonbinary gay man (he/xim/they) and i am Very Funky.

im white passing latino (uruguayan/argentinian) and im neurodivergent (feel free to ask about it). my Tweats consist of general nonsense and on the next page you can see a list of my interests!!
my sense of humour is a bit odd. im essentially a real life eccentric gay supervillain.
dont follow if youre racist/lgbtphobic/ableist/a terf, """pro shipper""", or truscum/transmed. i dont care about discourse and i hate you if youre any of those. please be normal to me
i most likely wont follow back if youre under 15 or if you post a lot of nsfw and i dont know you. that being said i post sfw content, the only "nsfw" things you might potentially find on here are mild dick jokes and dumb stuff like that. if i follow you and you post nsfw i will not interact with it
if you think i have an ass you are mistaken
I AM THE FATHER OF LIES